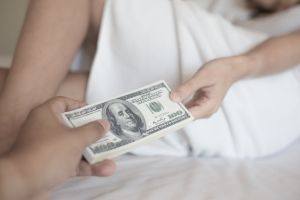 Many visitors flock to Las Vegas, Reno, and other cities throughout Nevada to not only enjoy gambling, but also participate in the nightlife--including paying for sexual favors.
Although Nevada is the only state in the country where prostitution is legal, it is only permitted in certain areas. Counties with a population of no larger than 700,000 people can operate a few brothels or so, depending on the specific laws of each one.
Prostitution is legal in only the following Nevada counties:
Churchill County
Elko County
Esmeralda County
Lander County
Lyon County
Mineral County
Nye County
Storey County
White Pine County
Legal prostitution is found in licensed brothels in the counties mentioned above. Licensed brothels and in-house prostitutes must follow specific rules such as prostitutes must at least be 18 years of age and employed under their own power, submit to routine STD and HIV testing, use condoms. Brothels are prohibited from being located within 400 yards of a school or house of worship or on a principal street, and cannot advertise in a county where prostitution is illegal.
Is Prostitution Legal in Reno, Nevada?
No, prostitution is not legal in Washoe County, which means it is illegal in Reno. Prostitution is also considered illegal in Clark County, home of Las Vegas. Outside of licensed brothels in other counties in Nevada, solicitation of prostitution or engaging in prostitution is subject to criminal penalties.
According to state law, prostitution is defined as making sexual contact with another individual in exchange for money or another item of value. Sexual contact includes intercourse, oral sex, or sexual touching. Solicitation means offering or agreeing to make sexual contact with a prostitute for a fee.
Both engaging and soliciting prostitution outside of a licensed house is a misdemeanor offense subject to a jail sentence and costly fines. However, if an individual solicits prostitution from a person under 18 years old, it is considered a Class E felony, which carries a prison term of up to four years and a maximum fine of $5,000.
It is also against the law to arrange, induce, or otherwise force another person to illegally engage in prostitution or enter a legal prostitution county to do so. This is known as pandering, which is a Class C felony punishable by a maximum five-year prison sentence and a fine no larger than $10,000.
If you have been arrested for soliciting or engaging in prostitution, contact our Reno criminal defense attorney at the Law Offices of Kenneth A. Stover today.